Telling the time can be a personal experience.
Your tool of choice for determining the hour/minute/second is your constant companion, always at hand, always working and tightly bound on your wrist; as close as your skin.
While the qualities of accuracy are expected, it's the flourishes of design and subtly of instrumentation that can set your watch apart, where it ceases to be a device, and becomes a statement. Here's a selection for your enjoyment.
Urwerk - Geneve EMC Time Hunter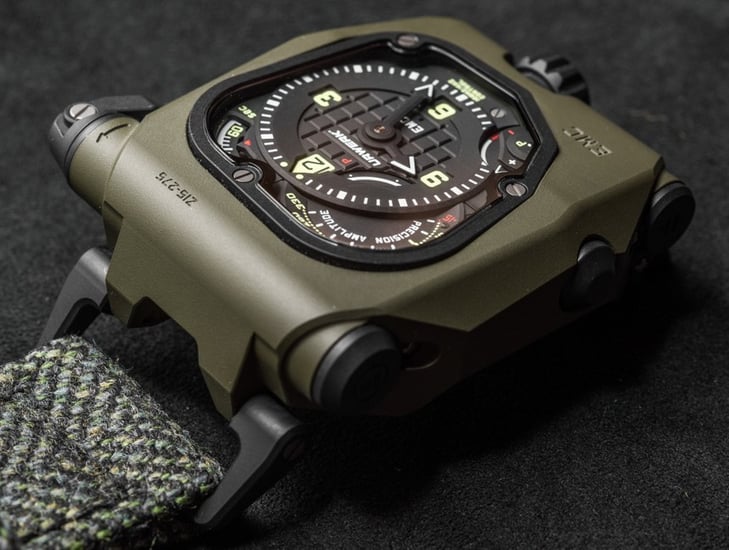 If you're the kind of man who likes to wear his exhibitionist streak on his sleeve, the Urwerk Geneve EMC Time Hunter has just the show pony you're looking for. Although positively subdued in comparison to some of the Swiss brand's more outlandish offerings, the EMC Time Hunter still packs a military-inspired punch.
In keeping with its techy aesthetic, the Time Hunter features a part-mechanical, part-electronic movement and comes equipped with a complication that allows you to monitor its precision and manually adjust its timekeeping using a small screw on its caseback. Which is pretty useful if you're not satisfied with a bespectacled watchmaker having the only say in how your watch ticks. $US111,055
Richard Mille RM 011 Felipe Massa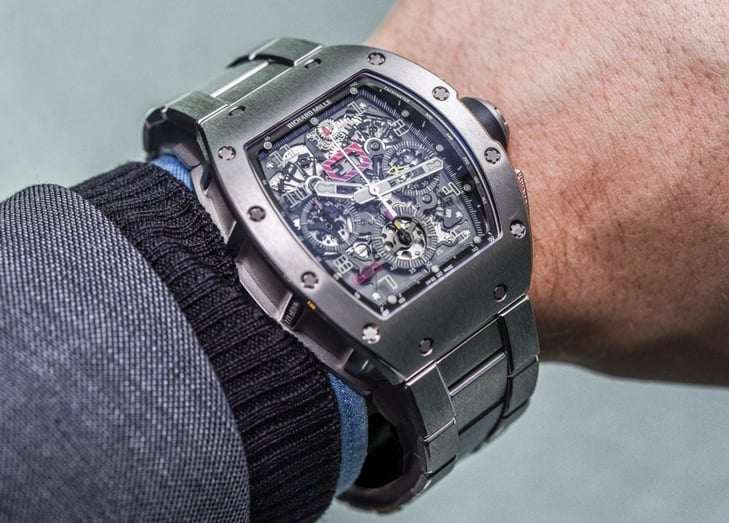 This Richard Mille RM011 Felipe Massa Titanium Watch is a striking design, in a titanium case, sapphire crystal back, black dial, and skeletonized automatic winding.
Caliber RM 011-S movement with rotor geometry offering hours, minutes, seconds, chronograph, 60-minute countdown timer, 12-hour totalizer, oversize date, and month, and about 50 hours of power reserve. $US90,000
Corum Golden Bridge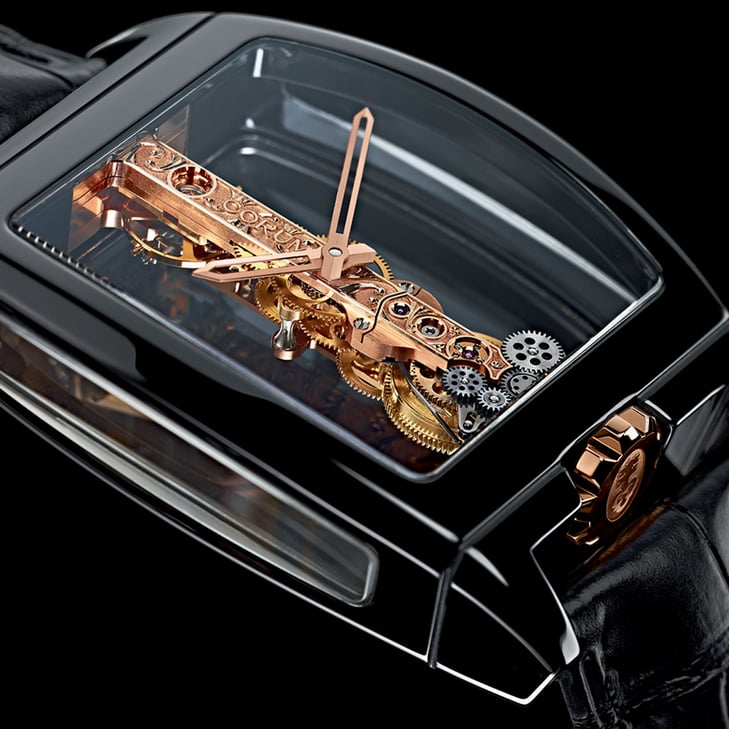 Corum's Iconic Golden Bridge was introduce in 1980 and is the first (and only!) in-line baguette movement in the market. The watch gives you a 360° view into the movement thanks to the four sapphire crystals (front and back, left and right). $US36,800
Breguet Type XXI Chronograph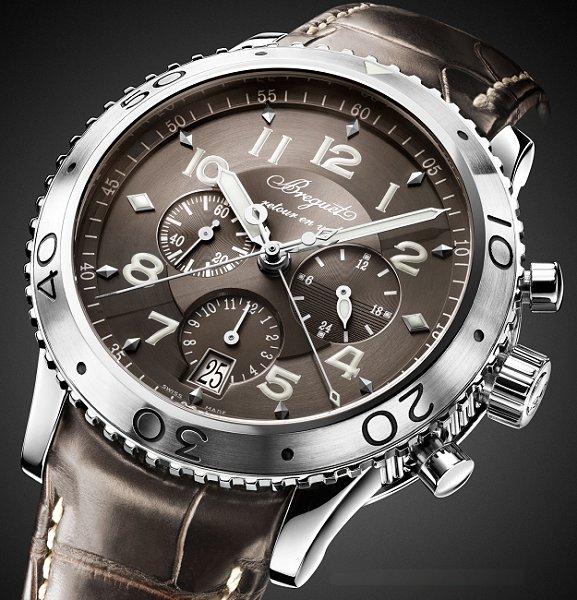 Breguet have created a chronograph with an exceptionally high frequency of 10 Hertz - allowing for the chronograph seconds hand counter to keep accurate count up to 1/20th of a second - one of the smallest time divisions to be measured by a serial mechanical calibre!
At the heart of this technical exploit is the use of silicon, resulting in more lightweight mobile components and the avoidance of the lubrication problems generated by high frequencies. This watch features polished 44mm 18KT rose gold case and two-tiered dial with raised centre and recessed sub-dials. $US35,500
Devon Tread 1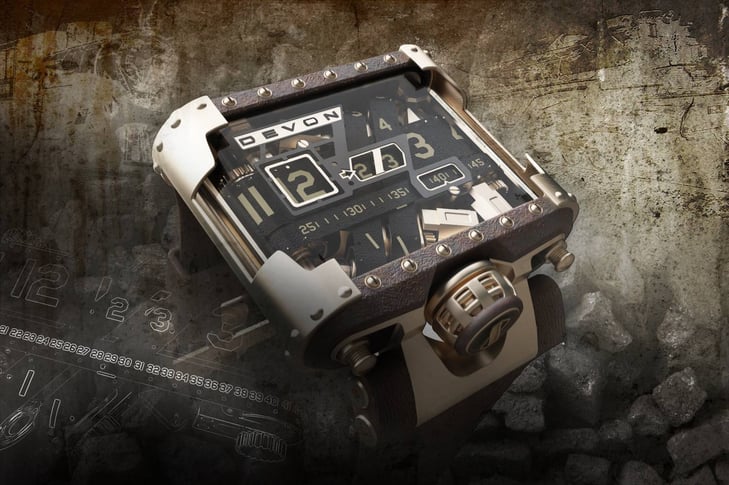 Although modern in appearance, the DEVON Tread 1 was inspired by the Industrial Revolution and the invention of conveyor belts.
The exterior case parts are covered by bronze "body armour," because of the way the cladding protects the original Tread 1 case structure. This body is a complex system of parts that is accented by intricate riveting, screws and fittings made of a contrasting mix of brass and bronze finishes.
Phosphor bronze spring spacers decorate the four corners of the armour adding depth to Steampunk's aesthetic.
The visual symphony carries on inside the case where the most recognizable features are the movement's brass motor housings and the newly designed indicator plate that's intricately etched to accomplish a delicate, vintage appeal.
The fibreglass-reinforced nylon time belts are dark brown while the numerals are executed in an off-white colour. All of these elements contribute to a decidedly antiqued and bespoke appearance. $US25,000
Qlocktwo W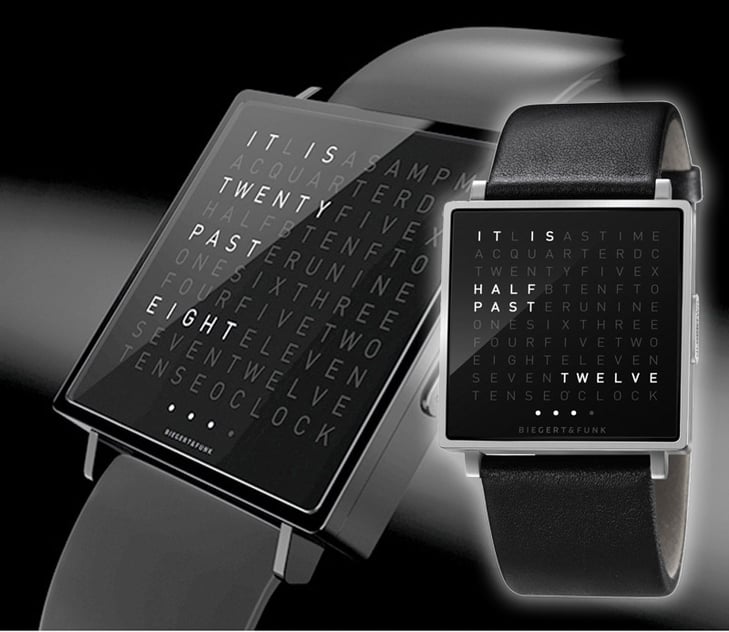 QLOCKTWO W brings the ingenious concept of telling the time with words to your wrist.
At first glance, it appears to be nothing more than a matrix of seemingly randomly arranged letters. Only the gentle touch of a button reveals the time.
Words are displayed at five-minute intervals, while four small dots give the precise time in minutes. $US850
Many men consider their watch one of their most prominent fashion statements – despite it being no bigger than a business card. The practical use of a watch, and the effortless way it can be displayed at a moment's notice, give watches a unique place in our style vocabulary.