Nothing says luxury lifestyle like a swimming pool. Gliding through crystal clear water is restorative, healing, splendid exercise and much more. Who doesn't feel an improved sense of wellbeing around water, whether it's thundering ocean, flowing river, still lake or manmade lagoon? You don't even have to dive in to feel the benefits – simply being near water is relaxing for most of us.
It's no wonder the world's top luxury resorts invest in creating amazing pool environments to entice and excite their guests. What defines the world's most amazing pools? Is it location, size, colour or a combination of factors? This global edit of astonishing swimming pools gathers the beautiful, the vast and the unexpected.

From sea to shining sea
People have long been lured by the sea's healing qualities, meditative power and far-off horizons. It's logical that many of the world's most luxe swimming pools are co-located with the ocean. One&Only Reethi Rah resort in the Maldives has a spa pool within a 30metre lap pool stretching out into the ocean. It's hard to tell where one ends and the other begins. You can rent a private villa overlooking the pool magic for US$2,250 a night. Also in the Maldives, the Velassaru Resort's infinity pool stretches out seamlessly into turquoise waters and uncluttered horizons beyond. In the Caribbean's British Virgin Islands, you can laze in a private pool overlooking the ocean waves and big skies at the famously secluded Biras Creek Hotel.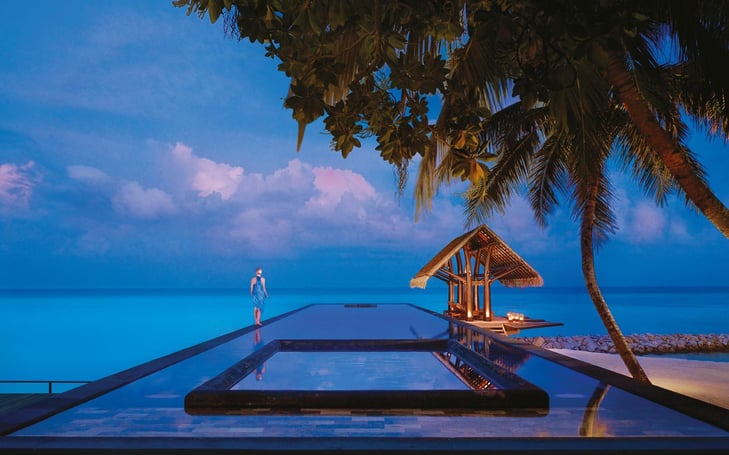 One&Only Reethi Rah resort pool, Maldives Source: www.oneandonlyresorts.com
Swim on top of the world
Engineers have designed and created swimming pools in amazing places. Some of the most spectacular take swimming to new heights, loftily cantilevered off buildings and natural structures to give "hanging out by the pool" an entirely new meaning. The Joule Hotel in Dallas, US boasts a swimming pool jutting out 8 feet from a balcony high on the 10th floor rooftop. In this unique pool you get the sensation of swimming beyond the hotel's edge out over the hustle and bustle of the sidewalk below.
Italy's Amalfi Coast is stunningly scenic and one of the choicest vantage points is the Hotel Caruso's infinity pool. Located at the highest point of picturesque Ravello, the pool straddles a cliff 350m above the sea, opening up a vista like no other.
The infinity pool at Singapore's Marina Bay Sands resort is the world's largest rooftop pool of its type. Imagine floating while gazing down on the sparkling city skyline from 57 levels above.
In Indonesia, the island paradise of Bali is no slouch when it comes to exquisite swimming pools. Ubud Hanging Gardens of Bali hotel's infinity pool is breathtaking. It features multi-level pools echoing the shape of nearby hills, ancient temple views and a steep rice field setting. Romantic tropical hideaways are made of this. Still in Bali, the pool at Alila Villas Uluwatu gets more Instagram action than most due to its stunning location and architecture. Perched on a limestone cliff-edge 150m above the Indian Ocean, the 50m infinity pool offers jaw-dropping views and a state-of-the-art cantilevered sunset cabana.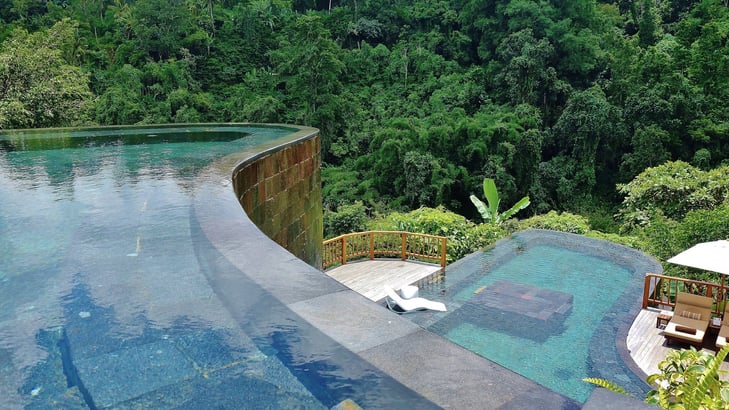 Hanging Gardens of Bali hotel pool Source: www.hanginggardensofbali.com
Colour my world
Traditionally, swimming pools have come in any colour you like, so long as it's blue. A handful of luxury swimming pool designers have stepped up to the challenge of creating a pool with exotic colour inspiration. The five-star St Regis resort in Lhasa, Tibet, surrounded by majestic Himalayan views, flaunts marble bathrooms, mammoth TV screens and Tibet's first-ever fine dining restaurant. Still, its best-known look-at-me feature is its Gold Energy Pool, which glitters and shines with thousands of tiles plated in real gold. It's a bling thing. If red is more your colour preference, take a journey to Koh Samui in Thailand for a dip in The Library Pool where a mosaic of orange, yellow and blood red tiles creates a sparkling, vibrant pool of scarlet hues.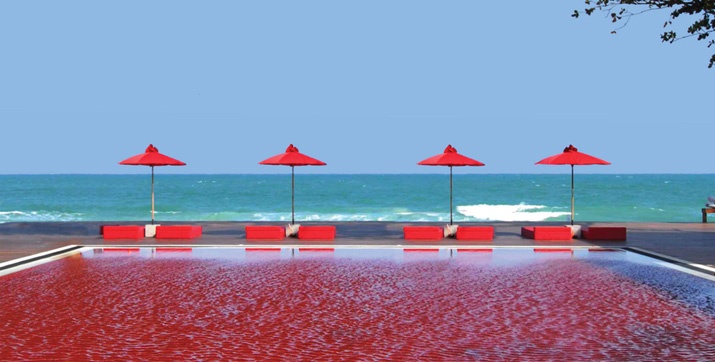 The Library red pool, Thailand Source www.thelibrary.co.th
By any measure
Architects and planners strive to create swimming pools that measure up to epic proportions. Having the largest, deepest, highest or longest swimming pool is a badge of honour that translates to exceptional marketing opportunities.
A contender for deepest pool in the world is the Nemo 33 pool in Brussels, Belgium. Open 365 days a year and rated by Popular Mechanics as one of the top 18 strangest pools in the world, Nemo 33 was specially designed with divers in mind. The pool's maximum depth is 34.5 metres and it contains 2.5 million litres of highly filtered spring water maintained at 30°C. The warmth allows divers to stay submerged for extended times, long enough to explore several simulated underwater caves at the 10m depth level.
The San Alfonso del Mar Resort in Algarrobo, Chile garners enormous media exposure for having one of the world's largest swimming pools. A kilometre in length, covering 8ha and containing some 250 million litres of water, the pool sets a new benchmark for doing laps. Guests are invited to not only swim the stretch of pristine seawater fringed with white-sand beach – they're also welcome to sail or kayak its vast surface.
Set to take over as the world's largest man-made lagoon (at 40ha, it's four times bigger than anything existing) is the turquoise waterway currently under development in Dubai's Mohammed bin Rashid City. It will feature custom-made beaches, lush parklands and recreational spaces.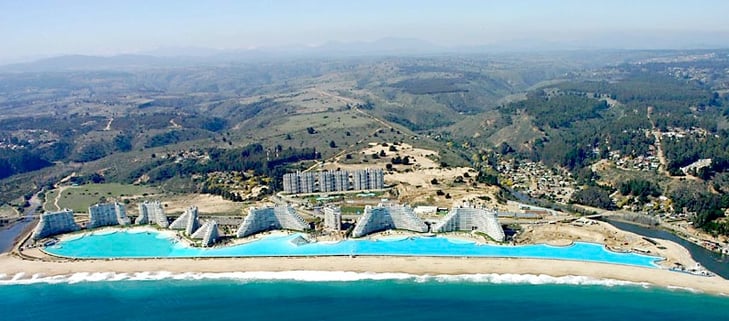 San Alfonso del Mar Resort pool, Chile Source: www.letsgochile.com
In unexpected locations
Luxury swimming pools in surprising locations fire up the imagination. Dipping your toe (or more) in where you least expect to is a seductive experience. Above the snowline, midst desert sands, in caves or hidden grottos – it's about venturing to a pool less travelled.
Katikies Hotel in Santorini, Greece has a pool carved right into a brilliant white caldera, a cauldron-like volcanic crater. Guests enjoy a refreshing swim in a shaded cave-like setting with a magnificent view. The hotel's infinity pool also offers bird's eye views from its perch 90m above the Aegean Sea.
If you envision yourself sipping cocktails and soaking in a cool pool while watching safari-strength wildlife drinking from a river waterhole, the Chongwe River House pool in Zambia, Africa is your spot. Still in Africa, Tanzania's Sanctuary Swala offers a similar experience – a pool overlooking a waterhole in the Tarangire National Park where antelopes and elephants roam free.
If soaring mountain-scapes make your heart sing, head to the Swiss Alpine village of Adelboden where the Cambrian Hotel offers a rare treat – an outdoor thermal infinity pool to envelope you in warmth while you gaze out over majestic snow-dusted alps.
At Sharm el Sheik in the deserts of Egypt, find unexpected oasis in 12.5ha of cool turquoise waters, currently the world's largest manmade crystalline lagoon.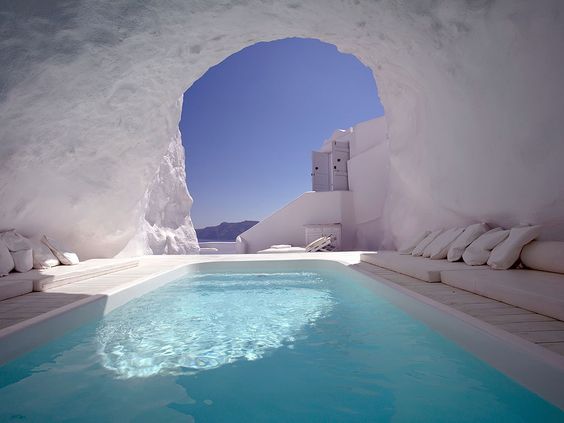 White Cave Pool, Katikies Hotel, Santorini, Greece Source: www.katikieshotelsantorini.com
The real deal
Mother Nature may well be the most innovative swimming pool creator of all. Natural pools in spectacular locations are her specialty. Near Supai, Arizona US, Havasu Falls is a magical place where the main chute drops over a 27m cliff to a series of vivid blue-green plunge pools. More than a hundred shallow warm pools of all shapes and sizes make up the Pamukkale Thermal Pools in western Turkey. Visually stunning, the natural pools are made of travertine. They sparkle white in the sunlight, contrasting perfectly with the curative turquoise waters.
Perfectly rounded by Mother Nature, the Ik Kil cave pool in Mexico makes for a wild swimming adventure. Its aquamarine water spans 96 feet across and 130 feet deep and is nestled within a tangle of untamed jungle. And in Greece, on the southern side of Thassos Island, a hidden natural pool gem awaits those willing to take the 2km walk from the main road – Giola, a crystal-clear aqua-marine lagoon surrounded by rocky 8m high dive-from-me cliffs.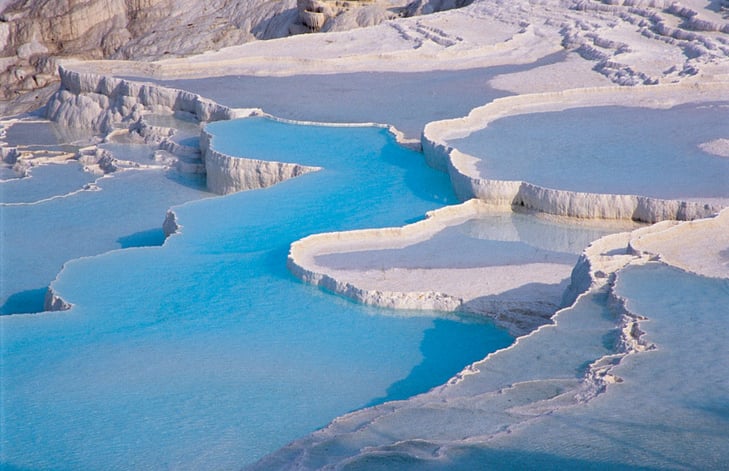 Pamukkale Thermal Pools, Turkey Source: www.tourismturkey.org
Whether you swim, dive, soak, sip cocktails while semi-submerged or simply admire from a sun lounge, these amazing pools inspire and excite. With the bar raised so high, you have to wonder what pool designers have in the innovation pipeline for the next generation of amazing luxury swimming pools.