Super-styled décor and intelligent interior living zones are just part of the luxury lifestyle equation. No matter how much you love the inside of your premium residence, eventually you'll need to head outside to the real world, to fresh air and sunshine – to the great outdoors. When you do, there's no need to let your standards drop. Architects, designers and technophiles love creating brilliant features to make your inside-outside lifestyle seamlessly luxurious.
This round-up assembles six superb exterior features that respond to the luxury home owner's desire to be discerning about every aspect of both the interior and exterior of their residence.

The ultimate outdoor TV
It's natural to seek to connect favourite leisure time pursuits: watching TV and relaxing outdoors. More and more luxury home owners are doing just that with super-sized outdoor TV technology.
Designed by the Porsche design studio, the C Seed 201 is billed as the world's ultimate outdoor television at a ticket price of $US680,000. A 201-inch screen makes this the largest LED screen, yet visitors will never know it's there until you command its appearance via the wireless remote control. Hidden underground, it starts as an obelisk rising from the ground, then opens up with a butterfly-like motion to extend to its full width. More than 780,000 LEDs make it the brightest screen around, viewable even in full sunlight. The processor flashes through image data at up to 100,000 times per second (or 500 times the refresh rate of a modern TV) while 12 broadband speakers and 3 subwoofers take care of the sound.
You can rotate the screen up to 270 degrees to get the perfect viewing angle – from the pool, from your sun lounger, from the deck or manicured lawn. ­Why wouldn't you gather your family and friends to enjoy your favourite shows, movies or downloads in the great outdoors?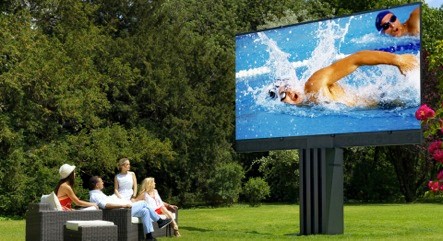 Source: www.cseed.tv
A chair that helps you track the sun
Thanks to Scandinavian design firm Remmus, you can now lie back and let technology take care of positioning you perfectly to catch the sun's rays. Award-winning Finish designer Tapio Anttila created the Remmus Luxury Tracking Chair to provide an "incomparable sunbathing experience". On the pool deck, on your balcony or even on your yacht, the lounger automatically tracks the sun in a 360-degree rotation. You don't have to move an inch.
For around $US45,000 you get features including ambient LED lights (for when it eventually gets dark), integrated water sprayers, adjustable powered back rest, Bluetooth sound system with high-fidelity marine-grade speakers, waterfproof safe locker, cooler box, wireless charging station and a built-in service button.
Each lounger is individually tailored to suit your personal taste and comes with white-glove installation for the perfect set up.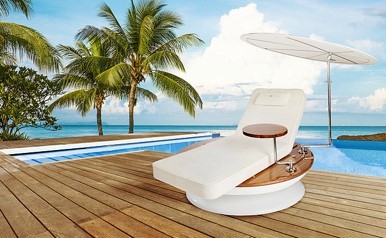 Source: www.remmus.fi
The chameleon house
Imagine changing the colour of your luxury home to suit your mood. No, not by simply repainting a feature wall or a room. What if you could change the outside hue of your house through the miracle of lighting technology?
Villa Chameleon is a private estate in the exclusive Son Vida area of Spain's Palma de Mallorca. More than half its exterior façade is made of fine crystal glass. Over the surface, a sophisticated LED lighting system performs colour magic, shifting the hues to suit the occasion – celebration reds, ponderous greens or dreamy blues. Located on a hilltop taking in jaw-dropping views of the sea, the villa is a landmark perfectly framed in a wonderful Mediterranean garden.
While the villa's capacity to colour-transform is considered unique, the buzz it's creating in the architectural world points to more luxury home owners specifying chameleon-like exteriors.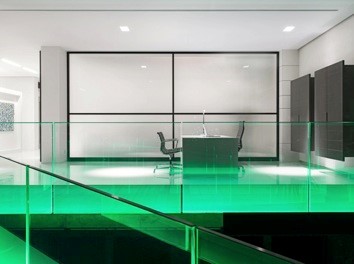 Source: www.freshome.com
Biometric access
Biometric access is not brand new technology in itself. We've seen it in Bond movies and commercial spaces where enterprise security is paramount. But it's still cutting-edge for residential properties. As luxury homeowners turn their sights towards increased security, ease of access and exclusivity, early adopters are already upgrading to these innovative systems.
What is biometric access? It's a type of security system that gives access to your home or property only after verifying your identity by reading or scanning an element or elements of your unique physical anatomy, such as your retina, fingerprint, palm veins or facial features. It means you don't have to carry keys, key cards, electronic passes or remote controllers. Whereas your key can be lost or stolen and used by unauthorised people, your unique physical characteristics are yours – and you always have them with you. And, unlike a PIN, you can't forget your fingerprint. For luxury homes, biometric access is a brilliant option for gated driveway entries, garages, outbuildings or home entries. At a cost of around $US10,000 per entry point, it's definitely a high-end addition.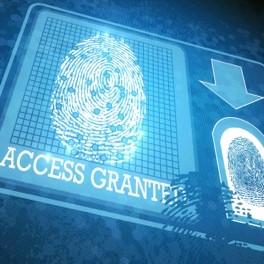 Source: www.findbiometrics.com
Motorised vehicle turntable
Many luxury residences are located in highly sought city locations where space is at a premium and planning restrictions are limiting. What do you do when your Rolls-Royce Ghost or Porsche is too big to turn around in your driveway? Architects have come up with the solution, building on a system railway trains have long used at the terminal or end of the line, and car dealers often deploy in vehicle showrooms. Make way for a vehicle turntable and never reverse out of your garage or driveway again.
A revolving platform lets you drive in and, with the click of a button, position your prestige vehicle exactly where you need it: parked alongside your fleet of cars or ready to drive straight out again. Park and turn in tight spaces or go for a spin without leaving home. A motor-driven circular turntable allows you to rotate your car up to 360 degrees. Some luxury owners are pimping their turntables with laser beam guidance systems and safety sensors that prevent the spinning vehicle knocking into walls or other objects.
Car spinners are becoming the shiny new toys of prestige real estate, with turntable companies reporting that home installations now account for 30% of revenue.
Vehicle turntables are not always about space-saving. In Surrey, UK, a £20 million UK mansion boasts a glass-enclosed spinning platform installed by the owner so he can admire his prized prestige car on the perfect angle while doing his morning laps.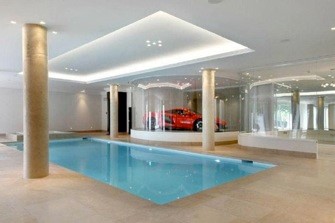 Source: www.rightmove.co.uk
No ordinary hammock
With all your outdoor technology sorted, what's left but to find an idyllic vantage point to relax and take it all in. The Petiole Hammock might be the answer. While, not strictly high-tech, this item pushes the boundaries on quality design to a whole new level and is perfectly at home with luxury lifestyles.
This is no ordinary hammock – its superb design and craftsmanship elevate it far beyond a slip of canvas slung between two poles. The Petiole Hammock is free-standing and fearlessly designed with luxury in mind. It's the culmination of 20 years of research and design, and each hammock is handmade in Sweden. Two skilled craftsmen take up to four weeks to shape it, piece by piece. Behold its electro-polished stainless steel stand, UV ray-blocking canopy and fluid, organic lines. Perfectly balanced, the hammock easily holds the weight of two adults and costs $US35,000.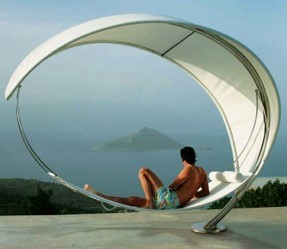 The Petiole Hammock Source: www.hammacher.com
Successful outdoor living relies on well-designed social spaces, where everyone feels relaxed and comfortable. Luxury features can add amenity, style and functionality but enjoying the great outdoors will always be about bringing together your favourite people in private, fun and workable exterior spaces.