Australia is not only the world's sixth largest country, the sheer size of its natural attractions and landmarks makes choosing top luxury destinations truly daunting.
There are national parks in Australia that are larger than entire countries. There is a never ending variety of accommodation options - tropical, city, country or completely isolated.
So when attempting to show a cross section of luxury locations, variety is the key. No matter what your preference for relaxation, there's something here for you.
Qualia Resort, Hamilton Island, Queensland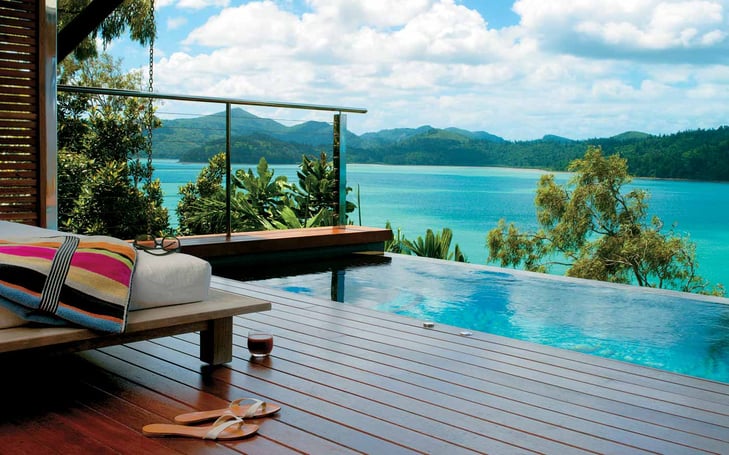 Bob Oatley made his name making fine wine and racing ocean-going sailboats between Sydney and Hobart, but his greatest achievement could be sitting on the northern tip of Hamilton Island.
Qualia Resort (pronounced kwah-lee-ah), is the elegant, sensory option of several accommodation choices on the island. Hamilton Island is one of 74 of the world-famous Whitsundays.
Mr Oatley of Wild Oates wine and yacht fame orchestrated the design of Qualia Resort, which has won just about every national and international award, including 2015 Most Desirable Escape by Australian Traveller.
Qualia means "a collection of deeper sensory experiences", and true to name, individuality is the defining quality of this resort, with each of the 60 private pavilions bearing its own distinctive design, all built with the finest of Australian timber and stone.
Even swimming becomes a "sensory experience" with every pool in the resort, including the private pools for each pavilion, being an infinity pool, with the edges blurring into the clear, blue yonder.
Reading from a well-stocked library, snorkelling in crystal clear waters or golfing on a course surrounded by island views – when it comes to activities, take your pick from this and much more.
Read more about Qualia resort here.
Saffire Freycinet, Tasmania, Australia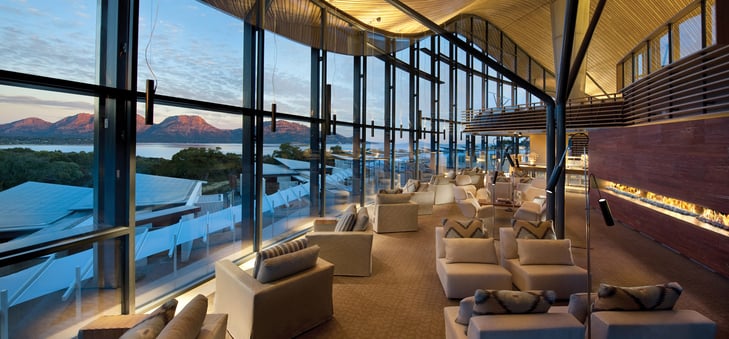 The Saffire Freycinet resort stretches like some bizarre, elegant stingray over the tree tops of Coles Bay, Tasmania. As you gaze from the main lounge's panoramic windows, the granite cliffs of the rugged Hazard mountain chain rise from the waters of the bay, launching a thousand dreams for bushwalkers and adventurers.
The surrounding bushland fits like a glove around the palatial resort. Each suite is nestled between the native Australia bushland with stunning, natural affect. You can reach out and touch the flora.
Only 2.5 hours' drive from Hobart, halfway down Tasmania's eastern coast, this 20-suite, multi-award winning resort is a magnet for celebrities and the rich and famous from around the world.
A unique experience to visitors of Saffire is dining knee deep in the waters of Coles Bay, with fresh local oysters and sparkling wine spread before you on a white clothed dining table. Are the oysters fresh you may ask. Well, just look to the oyster beds, within a few watery strides from your table.
Read more about Saffire Freycinet here.
Emirates Wolgan Valley Resort, Blue Mountains, NSW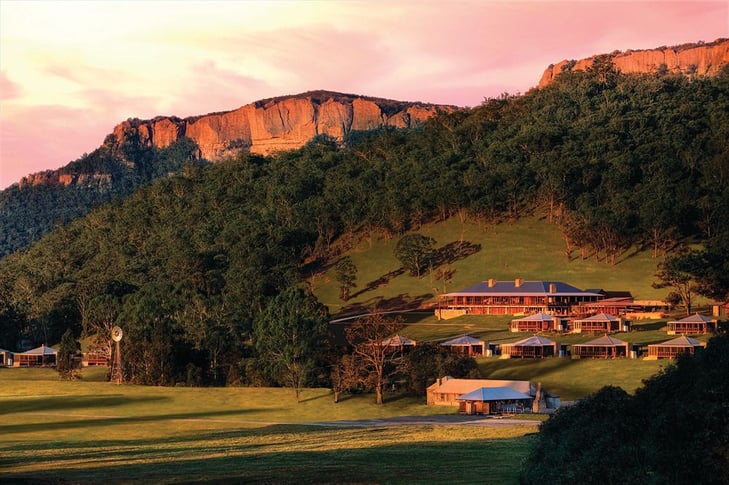 A quintessential Australian bush location, complete with a restored homestead gives visitors to the Wolgan Valley Resort a never-to-be-forgotten, back-to-the-bush experience with an historic Australian twist.
Surrounded by the ochre cliffs of the 26 km long, seven km wide Wolgan Valley, the resort is 2.5 hours' drive from Sydney, nestled between the Wollemi National Park and the Gardens of the Stone National Park.
With 40 freestanding suites of three distinct styles, each is designed with wide open grandeur and expansive windows to take in the magnificent seclusion and splendour.
Giving an undeniable authenticity to the resort is Heritage Homestead originally built in 1832, which was meticulously and lovingly restored over two-year period by former Australian of the Year, Ian Kiernan. Guided tours are available.
The resort experience is heighted by two high quality restaurants and the Valley Bar, together with a day spa and state-of-the-art fitness centre.
Horse riding and bush walking is available during the day, but after sunset you can experience Australia's magnificent southern night sky in a campfire setting in the bush landscape, free from the competing lights of cities and towns.
Read more about Wolgan Valley Resort here.
Southern Ocean Lodge, Kangaroo Island, South Australia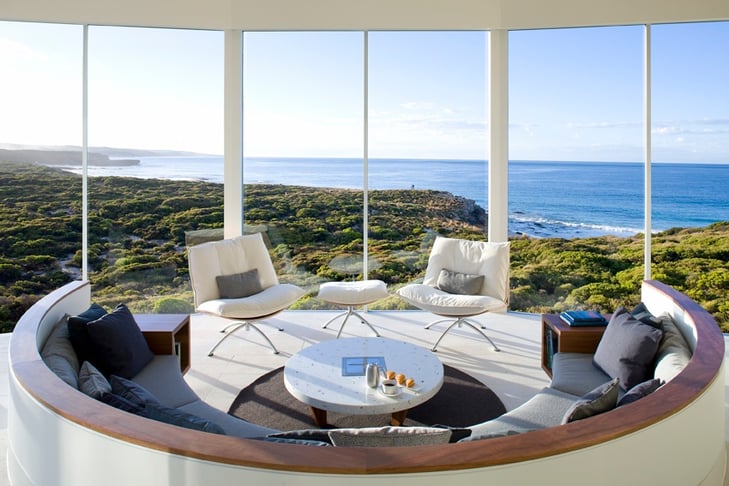 Like ripples on the beach, the Southern Ocean Lodge, graces the top of Hanson's Beach majestic limestone cliffs. While the exterior of the lodge is understated, prepare for a breath-taking experience the moment you step inside, presented with a view that attracts people from around the globe.
With uninterrupted beach and ocean views, it's no surprise that the Southern Ocean Lodge was recently named as one of the best 100 hotels and resorts in the world by the readers of Conde Nast Traveler – the only Australian property to make the list.
The Great Room is the awe-inspiring showcase of the lodge, high ceilings with windows from top to bottom, a cathedral of light and space, with a view that can turn the harshest critic to jelly.
Take the walkway to one of the 21 luxury suites, and expect the same panoramic views as you relax in your private getaway, complete with sunken lounge, outdoor terrace, spa and heated floors.
Kangaroo Island itself is widely acclaimed as Australia's Galapagos, and with any bushwalk you'll be likely to come face-to-face with a member of the island's fauna population – prolific variety of birds, fur seals, koalas, kangaroos, sea lions or if you're fortunate, the shy echidna.
And then, there's the distinguished epicurean culture, showcasing a plethora of fresh seafood, unique local produce and the acclaimed vignerons of South Australia's Coonawarra, Barossa Valley, McLaren Vale, Adelaide Hills and Clare Valley regions.
Read more about Southern Ocean Lodge here.
The Blackwood, Sassafras, Yarra Valley and Dandenong's, Victoria, Australia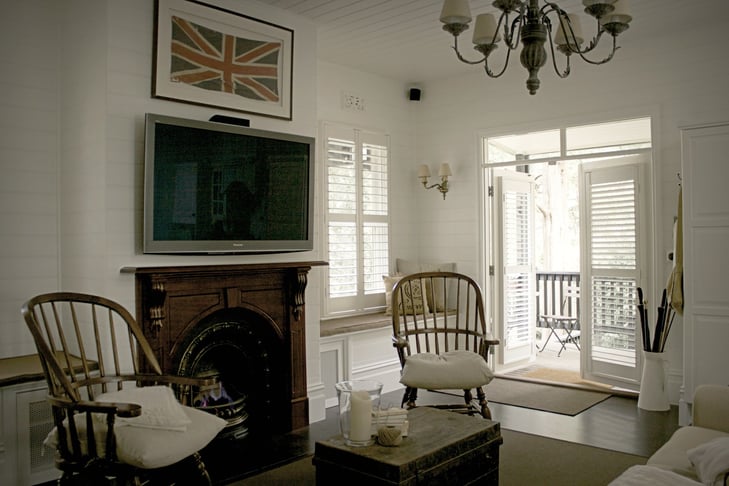 Nestled in Victoria's Dandenong ranges is this humble, yet superb retreat that whisks you back to the early 1900s and time of iconic style.
Elegant sophistication surround at this beautifully restored one-bedroom residence, and you could almost expect your neighbours to stroll past wearing top hats and a gold-tipped walking stick.
Superbly restored and designed by Melbourne designer Justin Bishop, The Blackwood is in the heart of the picturesque township of Sassafras, less than an hours' drive from Melbourne.
Classical music playing sweetly will great you on arrival, together with champagne and chocolate. A cosy open fire can keep you warm as you discover artistic talent with the supplied paints, paintbrushes and canvas.
Melding seamlessly with the classical style throughout is enough technology to keep anyone entertained, with 55" flat screen TV, free Wi-Fi and Foxtel.
The key to the peaceful atmosphere of the Blackwood is the house's neutral palette: creamy creams, warm browns, white and a touch of muted red or green here and there. It's easy to see why those looking for R&R will love this B&B.
Read more about The Blackwood, Sassafras here.
The Roozen Residence, Margaret River, Western Australia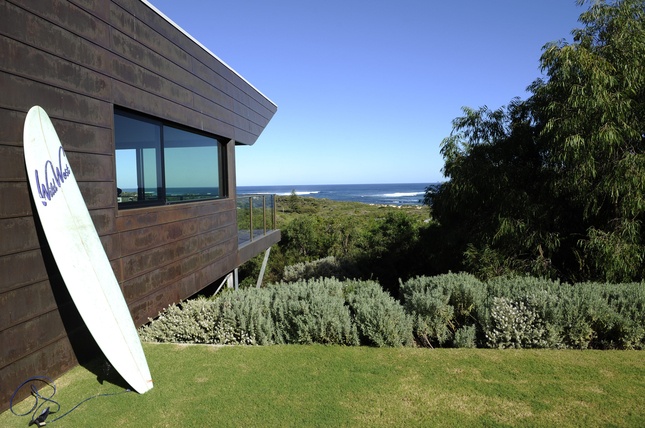 Anyone will delight in the Roozen Residence's magnificent 180-degree views of Prevelly Beach, but surfers will be in their element.
This architecturally designed premium beach house at Western Australia's Margaret River, gives a elevated outlook of the world-class perfect surf break, just a short walk away. Sunsets can be spectacular accompanied by the sound of softly rolling waves.
The outstanding feature of the Roozen is a large canter-levered deck and entertaining terrace, with its cinema-scopic views of the Indian Ocean, which magically makes every sip of wine, bit of food and conversation just that little more amazing.
Visitors can take advantage of an optional pantry service, an in-house masseuse, daily servicing and local tour-arranging. Even a local resident is available to offer a private chef service.
All mod-cons are available, including everything to do with sight and sound, heated floor, coffee machine and fully ducted air conditioning, and the entire house and residence, including the non-climbable glass railings, have been built with child safety in mind.
All things considered, it's no surprise that the Roozen continues to be Margaret River's most in-demand holiday accommodation.
Read more about The Roozen Residence here.
Sal Salis Ningaloo Reef, Exmouth, Coral Coast, Western Australia, Australia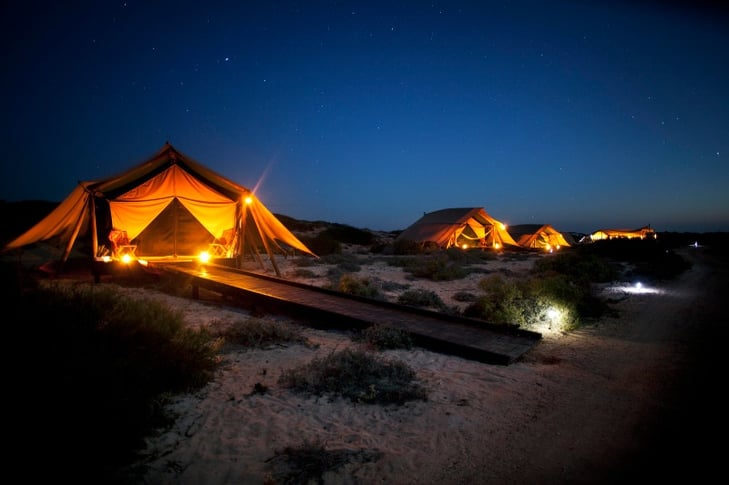 Sitting off the coast of far north Western Australia, the magnificent Ningaloo Reef is one of the best kept secrets in the world. Not as expansive, but just as beautiful as the Great Barrier Reef, the question was how to give tourists an eco-friendly, yet luxurious home base from which to explore the area in such a remote region.
The answer is the unique Sal Salis in Exmouth, designed to blend with the natural environment and to provide a natural place from which to experience the environment and wildlife which surrounds.
In any given walk in the nearby Cape Range National Park or along the secluded beach, chances are you'll hear the lilting song of a native bird, see kangaroos hopping between dunes or catch a glimpse of the spectacular breaching of a whale atop the sunlit ocean.
The accommodation is the unique aspect of Sal Salis. Nestled amongst the sand dunes are 16 eco-luxe safari tents, on raised platforms, offering direct views of the ocean, amazingly comfortable beds, and eco-equipped ensuites. The tents are spacious and naturally comfortable, and with no internet, Wi-Fi or television, making this the ultimate in bare-foot luxury.
The main lodge at Sal Salis' is where guests gather for downtime and enjoy meals cooked by the resident chef. Also raised above the sand and coastal scrub, and with incredible Indian Ocean views, the lodge is equipped with a small reference library, board games and a comfortable lounge area with self-service bar.
Then at night, the main show in town is the southern sky and its billions of stars.