There's no time of year as beautiful as Christmas. It's the season of generosity, peace … and bling. The anything-goes holiday when you can go all out with décor choices. Colour palettes flip into greens, reds, purples and metallics. Trees come in from the cold to transform interiors. Festoons, garlands and lavish globes light up your world, inside and out. Where tinsel and fairy lights were once the mainstay, the benchmark for luxury lifestyle lovers is lofty. Luxury home owners like you love to embrace Christmas with style and flair, to create beautiful holiday-themed havens where your family and friends gather for festivities. High-end interiors call for something exceptional. Here's a roundup of luxe styles and elements creating stunning Christmas experiences around the world.
Traditional Christmas style – on a grand scale
Christmas is celebrated on a grand scale at Biltmore House, the largest home in the United States. Built in the 1890s by George Vanderbilt II in Asheville, North Carolina, Biltmore is impressive any time of year. George, a famous art collector and member of the wealthy Vanderbilt family, was drawn by the regions stunning scenery. Biltmore's 780-foot stone chateau-style façade is as monumental as the mountains surrounding it. The build numbers will stagger you: eleven million bricks, a 102-step massive stone staircase spiralling over four storeys, 33 bedrooms, 65 fireplaces and 175,000 square feet of floor space. The original estate sprawled across 125,00 acres (now 8,000 acres).
For Christmas, the estate is decked out in the grand traditional style George and wife Edith favoured. Outside, a 40-foot decorated tree and lighted forest leave you no doubt that this is a Christmas celebration for the ages. You just know the interior will be magic-filled. And so it is, with 70 hand-decorated trees, mile-upon-mile of evergreen garlands, more than a thousand poinsettias and countless glittering ornaments and hand-tied bows.
In the seven-storey high Banquet Hall, 500 electric lights illuminate the legendary 35-foot liver Fraser Fir tree. Double-swagged garland lights adorn the mantle and balcony. The grand staircase boasts a bounty of red bows and double green swags. Even the bedrooms have Christmas trees.
George and Edith sustained a heartfelt Christmas tradition with Edith carefully choosing and wrapping gifts for all the children of the estate's employees. Descendants, the Cecil family, carry on the same tradition today, and share the joy far and wide by opening up their estate for the public to enjoy.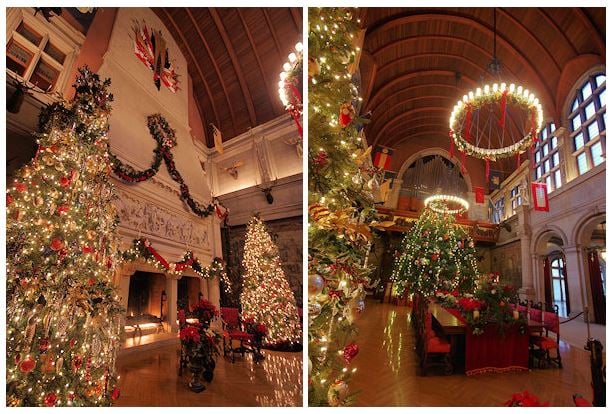 Source: www.romanticasheville.com
Professional Christmas style – Who are you going to call?
While some might argue there's no such thing as "over the top" when it comes to Christmas decorations, discerning luxury homeowners know the key is engaging a professional stylist to put together an incredible yuletide décor that doesn't compromise taste. Like any enviable décor, Christmas theming is about balance and restraint … and maybe a dash of glitter. So, who are you going to call?
Neill Strain Floral Couture of London is a floral stylist regarded as a Christmas décor specialist. His signature is luxurious and sophisticated, inspired by a range of trends including traditional revival, sparkling and playful, and Baroque opulence. For Christmas 2015, a property manager endowed Neill with a quarter of a £250,000 budget to decorate a Covent Garden property for an affluent Middle Eastern couple. The family was planning to spend just 36 hours at the property over Christmas but were keen to have everything holiday-themed with trees, wreaths and floral décor throughout. Yes, the task included decking the halls and also filling the bath with floating flowers and petals. No detail escaped Neill's trained eye.
In the US, specialist stylist Bob Pranga is known as Dr Christmas. His celebrity client list is dotted with droppable names including Barbara Streisand, Kirstie Ally, Kate Hudson, Mark Wahlberg and Steven Spielberg. Bob's services range between US$2,500 and US$80,000, and it's not only celebrities who engage him. Many luxury home owners seeking a truly distinctive outcome allow themselves a healthy budget for a professional styling consultation. Bob's service is particularly personalised – he handpicks the trees on your behalf, sources all the décor elements, bumps-in the décor on the appointed day and returns after the festive season to take down your decorations. The service is totally bespoke and in tune with your needs. Bob can incorporate your already owned decorations into the mix or go with completely new elements. And he can manage the most avant-garde of requests – just ask him about the time he placed a Christmas tree in a shower or hung motorcycles upside down from trees.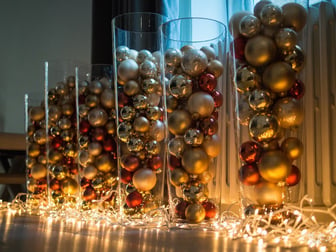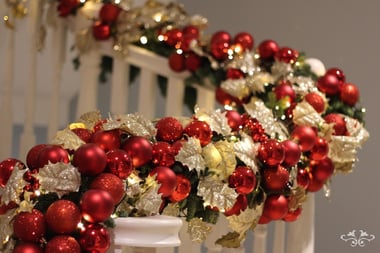 Source: www.neillstrain.com
Elements of Christmas style – it's all about the details
Whether your Christmas décor wish list is traditional, brimming, big-time, homespun, stylishly restrained or delightfully over the top, the dazzle is always in the detail. It's the little things that create the biggest wow factor. What's a towering Christmas tree without distinctive baubles? What's a mantle without superb yuletide miniatures? What's a festive silver platter without chic, and exclusive treats? You're spoiled for choice – designers and creators love to stretch their legs and produce enchanting products for the most special time of the year.
Mark Hussey of Hallmark Jewellers set out to deliberately create the world's most expensive Christmas ornament. Promoted as the most lavish Christmas bauble ever, his snowflake-inspired tree-hanging gem will embed high-end sparkle into your Christmas décor. It's 130 hours in the making and features 18-carat gold encrusted in 1,500 diamonds. Two rings orbit the central sphere with 188 rubies. Priced at US$135,000, it's a showstopper deserving pride of place in your luxury home for many Christmases to come.
Now, what about the crowning glory – the ultimate Christmas tree-topper? Top of the range is VeryFirstTo's glamorous Christmas tree star. Designed on solid silver and yellow plated gold and adorned with 281 diamonds, the 20cm star also boasts a 5-carat diamond centrepiece you can remove and wear as a necklace any time of year. There aren't too many Christmas decorations designed to do double duty like that. At £615,000, it makes a fine investment, a stunning year-round fashion piece and a covetable addition to your yuletide finery.
Celebrity London baker Georgia Green has created a Christmas tart like no other. Her Rudolph The Ruby-Nosed Reindeer Tart features macaron, chocolate ganache, salted caramel and one super-special adornment – a 7.1-carat ruby for Rudolph's nose-so-bright. At around £475, a Rudolph tart is sure to go down in family folklore as one of your most memorable Christmas details.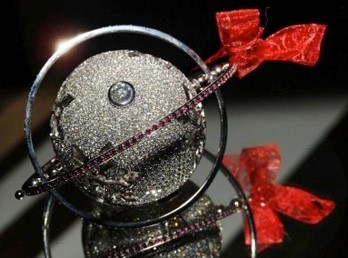 Source: www.stylefrizz.com
Whether you deck your halls with boughs of holly, high-end trinkets or love and laughter, your home is the heart of Christmas. It deserves to be dressed to impress. As a backdrop, your Christmas décor will underscore your yuletide photographic memories and create a beautiful environment where you gather with your loved ones to celebrate all good things in the world.