There has always been a powerful connection between luxury lifestyles and collecting art. Why not? Well-chosen original art is the finishing touch to exceptional architecture and décor. Mass-produced works simply don't level up to the lofty aesthetic standards of high net worth buyers.
As luxury homes shift more towards contemporary interiors, the traditional idea of fine art being large-scale oils in gilded frames is broadening. Today's art collectors not only source their pieces in different ways to predecessors, they are more than ever looking beyond the mainstream art markets into niche directions and unique pieces. The lifestyle trend for authenticity, self-determination and mindfulness is fuelling a new breed of private art collector.
Keeping abreast of the swings and shifts in collectability makes art investment more satisfying and more lucrative.
These four trends are inspiring art investors, collectors and luxury home decorators at the pointy, avant-garde end of the market.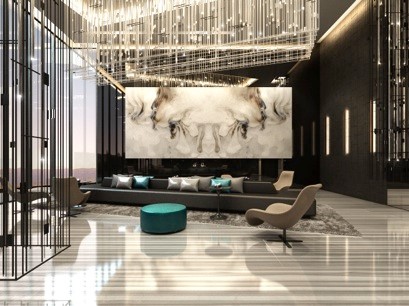 Source: www.houseinner.com
Doing it digitally – online art sales
Traditionally, art fairs have been an excuse for sponsors to splurge on lavish parties to attract niche collectors and buyers. Of course, these events are constrained by geography and timing. If you're not in the US during Miami Art Week, London for Frieze Masters or in Switzerland for Art Basel (the granddaddy of art fairs), you might feel you're missing out on the best opportunities. The recent rise of online art auctions and independent artist sales is flipping the art fair business model on its head. The art world, like so many other sectors, is ripe for digital disruption. Millions of dollars of venture capital is being fed into online art start-ups – $US1 billion since 2013, according to Deloitte's Art & Finance Report.
Technology is giving art collectors expanded global and remote access. The market is decentralising from art fairs and auction houses, traditionally located in the hubs of New York and London. Some insiders predict that within a handful of years the vast majority of sales under $US1 million will shift online.
More than ever, astute buyers and collectors can search, compare, bid for and source artworks from all over the globe. You no longer need to rely on a gallerist or an art dealer to source or recommend an artist, a style or a price bracket. You can follow your heart, educate yourself (also online) and trace the provenance of a piece with ease. For the luxury home owner it couldn't be more satisfying – having the autonomy to choose and source fabulous artworks that reflect you, your décor, your beliefs and your lifestyle, wherever and whenever it suits you.
Human interests – figurative painting
Figurative art describes modern art with strong references to the real world, particularly the human figure. There's revived interest in figurative painting and many savvy collectors are looking to own works by exponents like David Hockney and William Copley.
Figurative subjects have been considered unfashionable and commercial in recent decades but this year, the human figure is firmly back in favour, nude or clothed, in oils or acrylics, sketched or daubed, solo or grouped.
A talented crop of young artists is leading the resurgence and bringing with them old hands like Marlene Dumas, a South African born artist who now works in Amsterdam and has been painting heads and figures since 1984. Brian Calvin's portraits of alluring slacker girls are again in high demand and Irish artist Genieve Figgis is sought out for her richly rendered, often macabre, figurative studies.
It's not clear what's driving the trend, which some art dealers describe as bizarre. Contemporary figurative works are said to experience the everyday in entirely new ways through experimentation with mediums and colours. For whatever reason, the humanisation of figurative painting is making a strong connection, both emotionally and financially, with astute collectors and luxury home owners keen to hang high-end figurative works in their favourite rooms.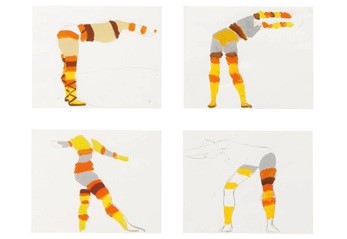 "Study of Dancer" by David Hockney Source: www.invaluable.com
We are the world – non-western art and objects
Maybe it's because luxury home owners are often travellers and adventurers. Maybe it's entrepreneurial spirit or natural curiosity. Maybe it's affordability. For whatever reason, there's a distinct trend for those living high-end lifestyles to collect and surround themselves with non-western art.
This category encompasses both traditional and contemporary works created in Africa, India, Central Asia, Southeast Asia, China, Japan, Oceania and Native and South America. It goes far beyond picking up a souvenir piece while on holiday in a far-off exotic land. Serious collectors are seeking out precious pieces by past and present professional non-western artists to adorn their homes.
Modern art from Asia is especially popular with Chinese artist like Ai Weiwei and Lin Tinanmiao finding acclaim. In the last few years, China has opened up to the world, culturally and economically. Chinese consumers are at the top of the luxury market, and the rest of the world is looking their way. As the internet and other technologies close the gap, the unique and culturally rich styles of Asian artists become more accessible to buyers globally.
Nigerian art is also catching the eye of buyers. Notable works include Peju Alatise's large format piece "The Missing" rated as a standout at London's 2014 1:54 Contemporary African Art Fair and Yusuf Grillo's inspired bringing together of western and non-western art techniques in his often-blue paintings.
One of the hottest trends in the Asian art market is Buddhistic objects including bronzes, paintings and thangkas, traditionally worked on cotton, or silk applique and depicting a Buddhist deity, scene or mandala. These pieces bring a touch of exoticism and spirituality to a living environment and are highly coveted.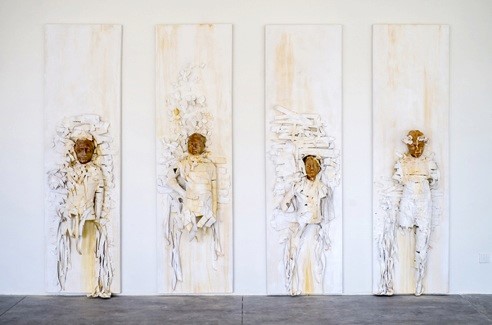 "Girl Interrupted" by Peju Alatise (source: www.pejualatise.com )
Dare to be different – bespoke wall murals
Wall murals are not new. They've been art forms for centuries and are hallmarks of some of our oldest civilisations. The modern bespoke wall mural, however, is a very different thing. Luxury home owners are looking to urban artists and polished professionals to create commissioned full-wall murals to set the tone in living rooms, bedrooms, dining rooms or any setting in the home.
Internationally famous street artist Banksy is credited with the growing popularity in owning original wall art. Banksy has created a sense of rarity and aspiration around his works, which appear unannounced and unsolicited in cities around the world. It's the ultimate in "statement" making and large, elegant homes are perfect for framing oversized artworks.
It's a mark of confidence to commission an artist to paint a full-wall mural. You can't simply sell it on or move it to another room if you tire of it. For that reason, people are willing to invest time and money in the right artist and subject. They look to create a statement, a piece that says something of themself. Something that adds undoubted "wow" factor to a room. Something that's ownable and totally unique.
Whimsical landscapes, trompe l'oeils, figurative, abstract or portraiture – almost any style can be translated into a commissioned wall mural. Celeb Kylie Jenner famously had JWoodzART paint a larger-than-life mural portrait of her directly on a wall in her home earlier this year. Clair Weiss's New York apartment living room features a Picasso-inspired mural by noted US artist Mark Beard. Italian contemporary artist Francesco Clemente has enlivened the walls of an indoor pool in a Saint Moritz, Switzerland home with images of fans and human forms.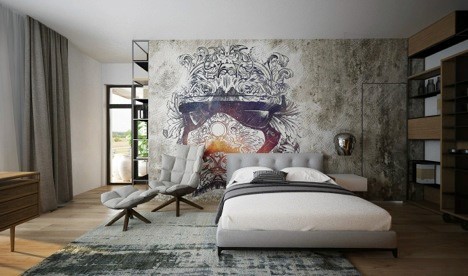 Source: www.home-designing.com
Whatever your taste or style, a single statement piece or a carefully curated collection of artworks will enhance your living environment and add an impressive visual dimension to your luxury home. Best of all, you get to enjoy amazing world-class art in the privacy of your own space.