The sound of flowing water and lure of time alone, makes the bathroom a unique room of any home, a combination of utility and potential luxury without demands.
It's the must-use room in the house, with the average person spending around 30 minutes a day in the bathroom, with women a little more likely to extend that stay to an hour.
As one of the only places which presents a chance of a few moments of solitude, silence and reflection, there's good reason to make this room as welcoming and comfortable as possible – the intention of the following technology-based products.
VibrAcoustic® Hydrotherapy
It gives a whole new meaning to the phrase "sound waves", a bathtub that is capable of pulsing music through the water, creating the ultimate in hydrotherapy experience.
When the tub is empty, the in-built speakers fill the room with sound. When topped-up, the sound vibrants through the water, filling your senses as you relax.
You can connect your smartphone or MP3 player wirelessly or an auxiliary card to play your own music, or play the pre-programmed compositions, with two titled appropriately "Solititude" and "Transcendence".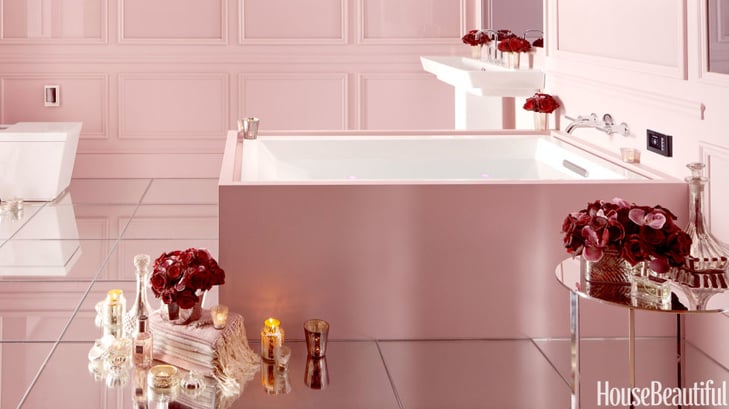 Mirror 2.0
The day is past when only wicked queens engage their mirror in conversation. With Mirror 2.0, every encounter with your reflection can become an interactive, educational experience, where you'll find out everything except who is "the fairest of them all".
Winner of the Reece 2013 Bathroom Innovative Award, Mirror 2.0 features two LCD displays behind one-way mirror, with senses for voice control and motion.
While powdering your nose or shaving, you can catch up on the news and weather, or even read an e-book.
By connecting a smartphone or accessing the Internet, the Mirror can automatically detect the user and tailor features to suit, such as choosing your favourite music while you take a shower, screening a movie for a those lingering stays in the tub, moderate the temperature of the room or dim the lights.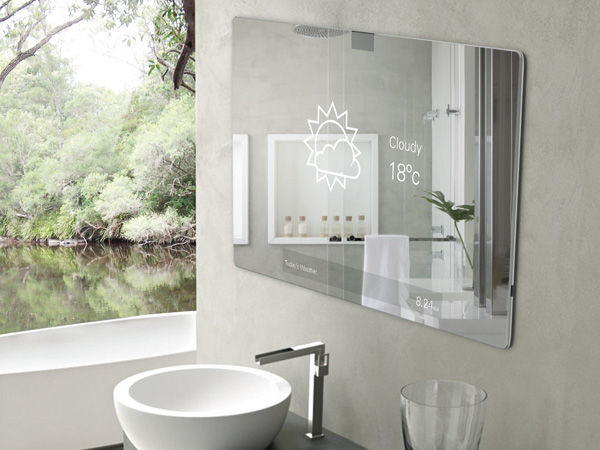 Roca Lumen Avant toilet
Have we all been seduced into thinking that the toilet is a design free zone? The Roca Lumen Avant has arrived to challenge the white-porcelain status quo.
Sleek, black, modern and "badass", this toilet also includes some high tech touches such as self-cleaning, automatic flushing and an LED screen control panel that handles toilet functions, room temperature and yes, even ambient music.
Looking more like something from a Batman movie, this toilet makes what was so mundane, just that more chic. The challenge with such a departure in toilet design is whether visitors will actually recognise what it is!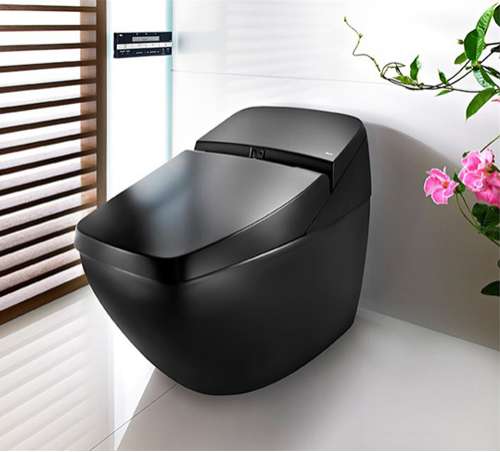 Dyson Airblade Tap
At first look, such a device seems to be counter-intuitive – a tap that dries your hands. Would that be like a refrigerator that heats your food?
Not only can you wash your hands with the Dyson Airblade Tap, but you can dry your hands in about 15 seconds from the blast of air travelling at 640 km/h.
Infrared sensors respond to your hand position, activating either the water or air to be dispensed, and the built-in high-efficiency particulate arrestance (HEPA) filters, ensure the air drying your hands is as clean as the water that washed them.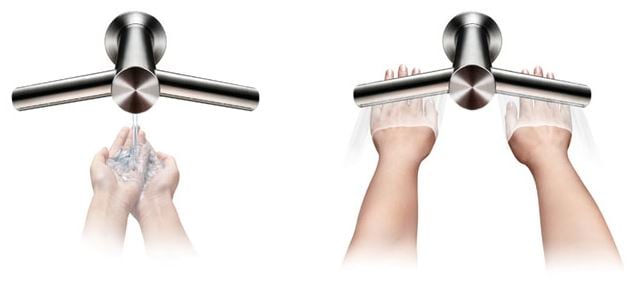 Moxie Showerhead with Bluetooth
It's a well-known fact, that we all sing better in the shower. There's nothing like belting out Bohemian Rhapsody like Freddy Mercury with the subtle sounds of water falling and the distorting echo of a bathroom masking your pitch issues.
With the Moxie Showerhead you can overcome the challenges presented by bathrooms when it comes to backing music. Firstly, you can take it in the shower with you. Secondly, being completely wireless and waterproof, there's no prospect of a shocking accident.
Load up to seven hours of music (or podcasts or news if you prefer) via the USB, screw the speaker into the showerhead, and rock on while being drenched by the 20 cms of sprayface.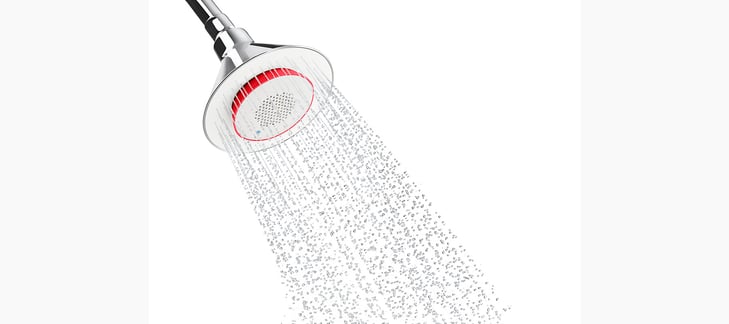 Fitbit Aria Wi-Fi Smart Scale
Too many people have cursed and abused their bathroom scales for simply telling the truth. It's time for scales to stand up and take back territory, and dare to tell it like it is!
This incredible piece of electronic weighing ingenuity sees you coming, or any number of eight individuals, and never forgets being stood on.
Not only will it look you in the eye and give your correct weight, but it will also track your body mass index (BMI), lean mass and body fat percentage, and through connecting with a Fitbit app, you can also earn badges.
By connecting the Fitbit Aria with your phone, iPad or computer, you can track your progress, or lack thereof, graphically presented with colourful charts and graphs.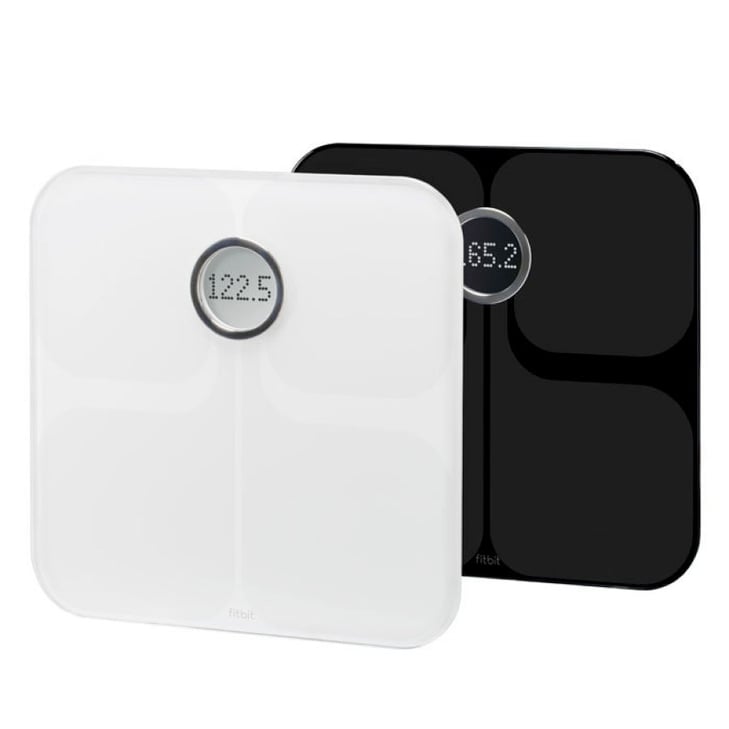 Seura Waterproof

Hydra Television

What do you do? It's the series finale of two of your favourite TV shows, you have an early morning appointment, and there's just no time to take a shower or bath.

Seura is a company who sympathizes with your first-world problem, and delivers the answer. Through installing their waterproof hydra television in your bathroom, you can stay up-to-date with top rating television, and maintain personal hygiene.

Coming in either 19" or 27" screens, these specially designed units feature screens that automatically de-fog in the likely event of steam, are engineered to give complete protection to all electronic components, connect with external speakers, and can be flush-mounted.

Or, of course, you could record your show.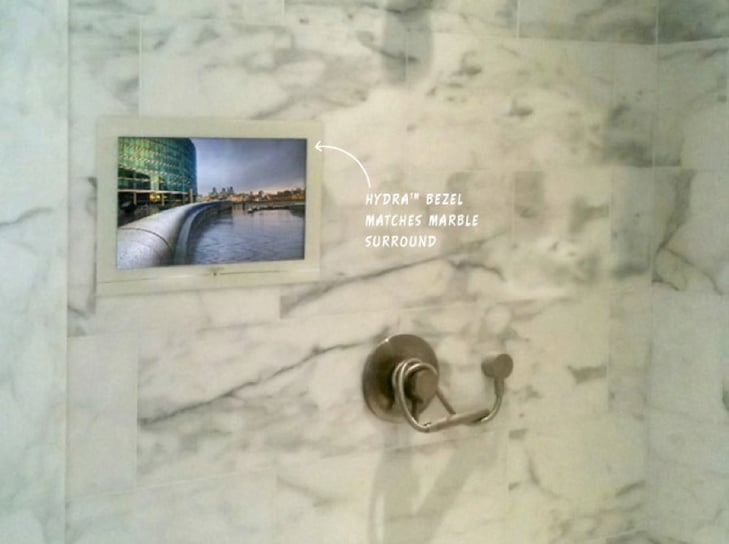 While we have solved many real-world bathroom problems and challenges through technology in the preceding paragraphs, one great issue still remains – should the toilet roll go over or under? We'll leave this for another day!