When indulging in luxury travel, one of the most exciting things to do is sample the local cuisine. We've sourced five of the must-try foods around the globe from earthy street food to once-in-a-lifetime experiences.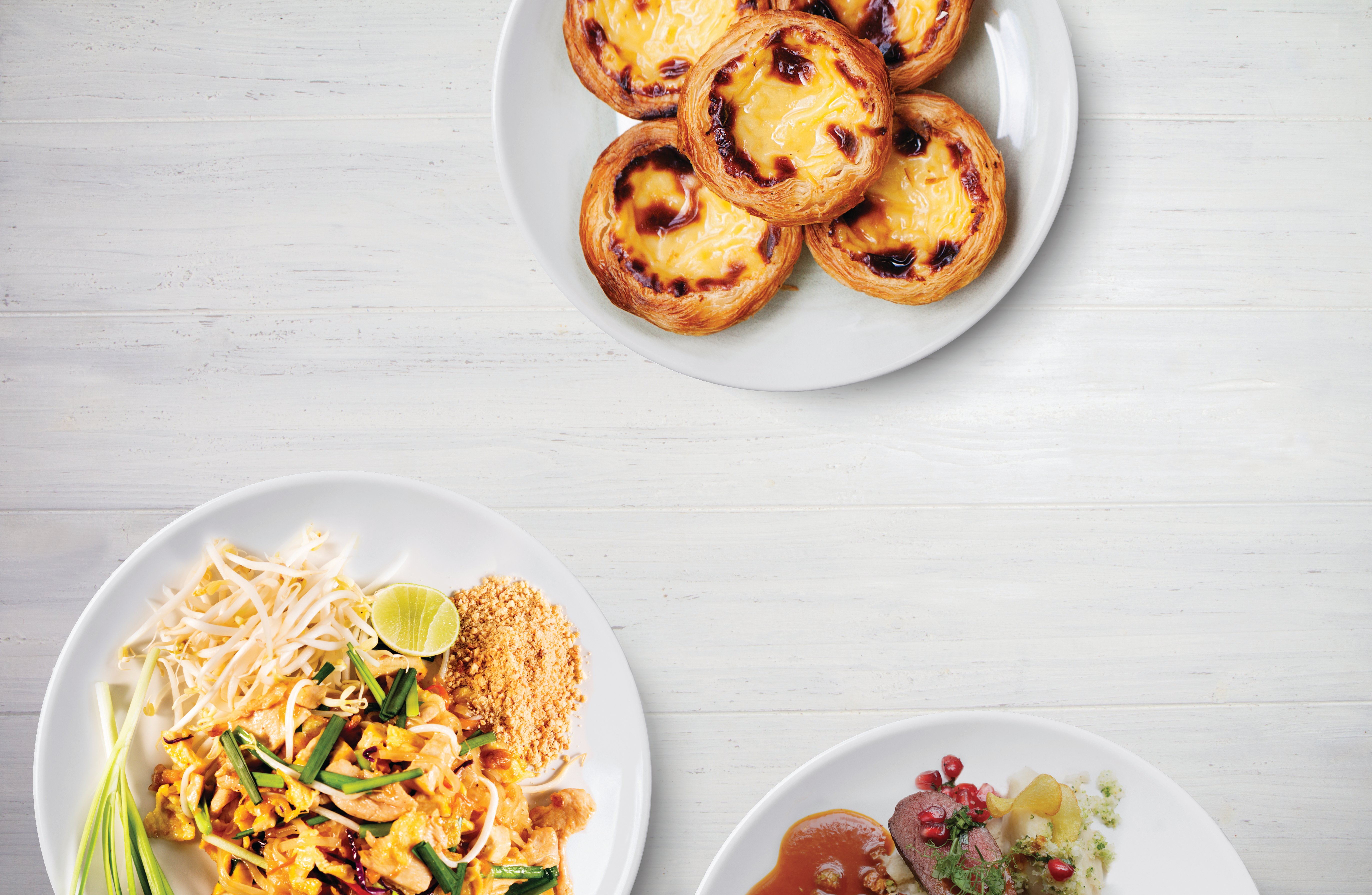 Thailand – Pad Thai
For pad thai purists there is no better time spent that a pilgrimage to Thip Samai where Mrs Samai has been serving up pad thai noodles (and little else) for more than 40 years.
Off the beaten path in Bangkok, and a little hard to find, the original pad thai restaurant is home to the national food of stir-fried rice noodles, chilli, fish sauce, lime, bean sprouts, shrimp and peanuts. Sublime Chanthaburi noodles, or thin rice-flour noodles, are milled and then sun-dried to serve as the perfect foil to the sauce. All dishes are made to order and are a true reflection of the beautiful Thai culture – local, simple, full of flavour.
It would be just as easy to sample pad thai from a number of stalls around Sukhumvit Road, but until you've had it cooked in a huge wok at a fiercely high heat over a blazing fire, you haven't had it.
Australia – Kangaroo loin
Ok, so is kangaroo a must-try food item? While it may not be for everyone's taste, it's quite common in Australia to find kangaroo loin on the menus of fine restaurants. Most of the kangaroo available is wild caught, meaning that the meat won't contain growth hormones, antibiotics or chemicals. The experience of sampling this indigenous animal will be as close to pure as it can be.
Australians pride themselves on their food scene and Australian native cuisine is seeing a renaissance with menus designed around the flora and fauna such kangaroo, along with macadamia nuts, sea parsley, and quandong, a type of peach.
Indonesia – Soto
Travel around Indonesia and each region and city will have a dish for which it is known. However, there are a few specialities found throughout the country. One of them is soto, thought of as the national dish of meat, vegetables and noodles in a soup that is served with rice. It is easily available and does vary from region to region.
In Jakarta, try soto betawi which can be found in most traditional restaurants. When eating soto, practice the local custom of adding in sambal, a hot sauce that will enhance any dish (tip – bring some home if your customs policies allow and wow your next dinner party guests with this fiery condiment).
Portugal – Egg Custard Tart
Go directly to the birthplace of the little custard tart that is revered the world over for its flaky, scorched pastry and its sweet, rich eggy-ness. The Confeitaria de Belem in Lisbon is home to the 'pasteis di nata'. It's located a three minute walk from Jerónimos Monastery where it was invented.
Dating back to the 16th century, the Portuguese egg tart was invented like many of the sweet pastries by the local nuns. The streets of Lisbon are steeped in the aroma of warm tarts and strong coffee. The destination is well worth the queue – don't worry, it moves efficiently, just like the bakers who lovingly assemble the little tastes of Portugal.
Hong Kong – Dim Sum
There are many things to love about dining out in Hong Kong, from the views to the buzz from one of the world's top locations. When in Hong Kong, do not leave without taking part in dim sum. Part meal, part brunch, part family get together, enjoying a dim sum is a delightful way to spend a few hours with friends and loved one.
Originating in the tea-loving Chinese province of Guangdong, dim sum has become synonymous with steamed dumplings. Head to the Four Seasons' Lung Keen Heen, the world's first Chinese restaurant to be awarded the coveted Michelin three-star rating, where you'll have a rotating offer of local seafood and exquisitely prepared small bites with a selection of fine teas. Book in advance or you may miss one of the best views of the city.